Our Mission
Since 1970
White Bird is a collective environment organized to enable people to gain control of their social, emotional and physical well-being through direct service, education, and community.
Vision 
White Bird Clinic provides compassionate, humanistic healthcare, and supportive services to individuals in our community, so everyone receives the care they need.
Values
White Bird Clinic's core values are compassion, client-centered care, community focus, individual empowerment, and service accessibility.
Testimonials
Megan Shutika
Heard about you on NPR. Moved me to tears. We all need this approach of help, kindness, and love for our neighbors. Please come to Houston, TX… and LA, and NYC, and all the major cities who so desperately need services like this!!!
Laura Van Tosh
I am a former beneficiary of CAHOOTS' services. At a time in my life when all things fell apart and I was homeless and unwell. Everything Ebony says when she describes the model is true, it's not a pat description you might find in a brochure. They work with heart and relatability and are trained to calm rather than elevate situations. They dress in black. Angel black ninjas from a parent agency called White Bird. It makes sense to me. CAHOOTS put me squarely on the path to wellness. The rest has been up to me but they gave the needed lift. May they continue to share their wealth with others for the greater good.
Tessa Sieb Herg
When the world talks about what needs to be done; White Bird has always humbly and profoundly gotten it done.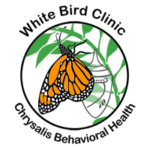 Brandon Gatewood
Chrysalis has been a positive part of my life for quite a while. I wouldn't be who I am today without this place. I came 7 years ago to work on making some changes and have recently come back for a little preventative tune up and some emotional education... I couldn't be happier with the services at Chrysalis, then and especially now! The councilors are top notch and the array of support here is unsurpassed. I've been to a few other outpatient treatment programs and this one surely sets itself aside! I just want to say thank you to the entire team of people that make it happen, the ones I know and especially the ones I don't know or don't get to see in action, You are all appreciated!!! Thanks for keeping it real, friends!
CAHOOTS is critical to the operations of the Eugene Mission…. We call on CAHOOTS several times daily to provide solutions to extremely complicated guest issues. They are top notched professionals in handling these urgent cases.
Satisfied Clients The staff I have interacted with are kind, reassuring, and helpful. You know they are always there if you need them. On the whole, this is a great community-supporting service.
The humanistic approach to crisis intervention allows for us to really be able to work with clients and meet them where they're at.
Concert Attendee at the Dead and Company show at Autzen Stadium, June 2018
Thank you for taking care of me last night. Heat exhaustion; political imbroglio, babies and families.... It all hit me at once. Being at a Dead concert - in your care - must have been the safest place I could be to fall to pieces. Thank you for holding your hands out to catch and comfort me. It was a spectacular show!
American Foundation for Suicide Prevention Eugene, Oregon Chapter
CAHOOTS is an integral part of the behavioral health community in Eugene. They are able to offer evaluation and recommendations for those in crisis without involving law enforcement. White Bird clinic is one of the many organizations that participate in the Out of the Darkness walk. A huge thank you to the folks at White Bird and the CAHOOTS staff for their efforts to help people in crisis in the Eugene/Springfield area.
Ava Walker
Dental Clinic Client
I'm so grateful for the services that White Bird is able to provide to the public. They've saved my teeth! Will never be able to convey just how appreciative I am.
Ren Fineout
Front Rooms Client
The staff is friendly and goes out of their way to make as many clients feel as comfortable as possible. I'm humbled by both the professional and personal efforts made to provide access to a multitude of resources.